Feedlot Health Featured in Bovine Veterinarian's Post-Mortem Series 2019-2020
"Myocarditis and Chronic Myocarditis, by John Maday
This case continues our Post-Mortem Series.  The image depicts a heifer calf found dead on November 18 at 34 days on feed, with no prior treatment for undifferentiated fever.  Read Article  here: Nov. 2019 – Post Mortem-Myocarditis and Chronic Myocarditis Heifer
"Fibrinous Pneumonia" by John Maday
This month, we continue our new Post-Mortem Series in partnership with Feedlot Health.  Take a look at the diagnosis process of a feedlot steer, found dead in pen having been on feed for 20 days. Read Article here:  Oct. 2019 – Post Mortem-Fibrinous Pneumonia Steer
"Feedlot Atypical Interstitial Pneumonia (AIP)" by John Maday
This month, we are excited to introduce our new Post-Mortem Series in partnership with Feedlot Health Managements Services, Okotoks. Read Article here: Post Mortem-Sept.19
"The Power of Numbers" by John Maday
Alberta-based consulting group draws on data and teamwork to provide integrated services to producers. Read Article here: FHMS-Sept.19
~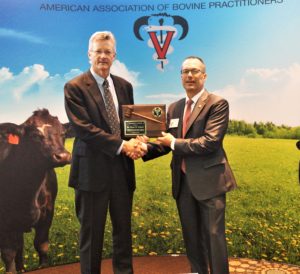 Booker becomes 2019-2020 President of the American Association of Bovine Practitioners
At the end of the annual business meeting of the American Association of Bovine Practitioners (AABP) in St. Louis, MO, on September 14, 2019, Dr. Calvin Booker assumed the role of 2019-2020 President of AABP. The AABP is an international association of veterinarians serving society as leaders in cattle health, welfare and productivity. The "not-for-profit" organization was founded in 1965 in the United States and has grown to a membership of approximately 6000 veterinarians, including approximately 500 Canadian members.
For more information about AABP, please visit the AABP website: https://aabp.org/
~
2019 Fun-Run Challenge Pumps up Scholarship Fund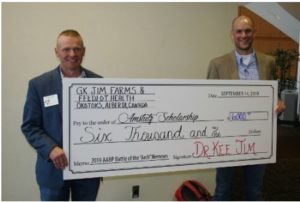 Drs. Eric Behlke (left) and Holt Tripp competed in the 5-K run, motivated by a $6,000 donation to the Amstutz Scholarship from Feedlot Health founder Dr. Kee Jim.
For several years, AABP has hosted an early morning 5-K fun run during its annual conference, with entry fees helping support the Amstutz Scholarship Fund.
In the months leading up to this year's conference, held in Mid-September in St. Louis, two veterinarians from Feedlot Health Management Services, Okotoks, Alberta decided to ramp up the competition with a personal challenge.
Last spring, Dr. Eric Behlke and Dr. Holt Tripp challenged each other for best finish and bragging rights in the race. Both competitors trained diligently through the summer, along with considerable trash talk.
As interest in the competition grew, Feedlot Health founder Dr. Kee Jim offered a $6,000 donation to the scholarship fund on behalf of the winner.
Dr. Tripp came out ahead in the race, finishing third overall, but the big winner was the Amstutz Scholarship fund and the outstanding veterinary students it helps support. The Amstutz Scholarship provides over $300,000 per year to deserving students.
~
Feedlot Health and The Calgary Stampede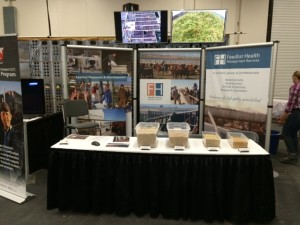 Since 2012, Feedlot Health has participated in the "Cattle Trail" display at the Calgary Stampede. This display follows the life cycle of a beef animal from pasture to plate and highlights 7 major areas of beef production. Our contribution to the display was found in the finishing section of the display and Stampede Park visitors had the chance to meet with Feedlot Health employees, including consultants, to learn more about the progression of a feedlot animal through a feedlot. A series of short video clips were available that showed such things as processing, feeding, pen checking and loadout.