Women in Communications & Technology: Dr. Shari Van de Pol, Recipient of the Leadership Excellence Award
Happy International Women's Day!  With this year's International Women's Day theme of Embrace Equity, what a fitting day to share the news that our own 
Dr. Shari Van de Pol has been announced as the recipient of a Leadership Excellence Award in the "Entrepreneur" category, 
by Women in Communications and Technology (WCT)
.
 WCT is a Canadian non-profit organization that works to promote and support female leadership across many industries. The annual Leadership Excellence Awards "recognize people and organizations committed to equity and diversity in Canada's digital economy".
Shari joined our team in 2014, and since then has contributed in many innovative ways that benefit both our internal team members as well as our customers.
Shari was previously highlighted by our TAC team on our 
telus.com/agcg
 website – read Shari's "Meet the Team" feature 
here
. Please join us in congratulating Shari on her receipt of this distinguished award.
~


Who is Telus Agriculture?
You may not know this company, but chances are you're already working with it in some form.
The agriculture industry produces a lot of information that could be used to help combat food waste, better target nutrient use and even match consumer needs more precisely. Collecting all that data into a form that can be put to use is no easy task. Enter Telus Agriculture & Consumer Goods.
A subsidiary of Telus Corp., a world-leading communications technology company, Telus Agriculture & Consumer Goods has been formed through nine major acquisitions in the last few years. Those purchases included Muddy Boots, a U.K. software company, and Agrian, a U.S.-based ag software and technology company. Chances are you're engaging with Telus Agriculture software but don't know it, likely through a local ag retailer.  Continue reading article here.
~

Recipient of the Western Canadian Association of Bovine Practitioners Veterinarian of the Year, Dr. Calvin Booker
We would like to congratulate Dr. Calvin Booker for being the Recipient of the Western Canadian Association of Bovine Practitioners (WCABP).  The award will be presented at the WCABP Annual Conference in Saskatoon January 20, 2023.
We are fortunate to work with Calvin and congratulate him on this tremendous achievement.  His contributions to the veterinary profession are remarkable.
Excerpts from the nomination letter are included below and demonstrate how truly deserving he is for this award.
Dr. Calvin W. Booker received his Doctor of Veterinary Medicine (D.V.M.) in 1989 and his Master of Veterinary Science (M.Vet.Sc.) in 1992 from the Western College of Veterinary Medicine, Saskatoon, Saskatchewan. Dr. Booker completed an internship at the Ambulatory Clinic, New York State College of Veterinary Medicine, Cornell University, Ithaca, New York in 1990 and a residency at the Field Service Clinic, Western College of Veterinary Medicine, Saskatoon, Saskatchewan in 1992. Dr. Booker collaborated on research efforts with Feedlot Health Management Services from 1990 to 1992, became associated with Feedlot Health Management Services in 1992 and became a partner in 2003.  Since entering private practice in 1992, Calvin has made a significant impact on feedlot veterinary medicine.  He is a brilliant epidemiologist whose skills have resulted in several ground-breaking research projects including:
Identification and documentation of Histophilus somni (formerly Haemophilus somnus) as a major disease.
Establishment of the case definition for undifferentiated fever/bovine respiratory disease (UF/BRD) and determining the economic impact of the disease in feedlot production.
Development of prophylactic and therapeutic regimes for the control of UF/BRD in feedlot production.
Definition of innovative low-dose, delayed administration, and implant stacking avoidance strategies to optimize the use of hormonal growth implants in feedlot production.
Definition of the cost-effectiveness of parasite control programs in feedlot production.
Definition of feeding strategies for western Canada based on commercial feedlot field trial data rather than theoretical Nation Research Council calculations.
Definition of the role of bovine viral diarrhea (BVD) virus in feedlot disease and developing databased strategies to control the effects of BVD virus in feedlot production.
In addition, he was instrumental in the development of several innovative concepts in the delivery of feedlot veterinary services including:
Development and introduction of chute-side, computerized, individual animal data recording system for day-to-day feedlot operation.
Use of applied epidemiology to control disease in day-to-day feedlot operations and to establish an ongoing animal health database for surveillance, monitoring, and benchmarking of animal health data.
Use of economic modeling and data-based decision making for all decisions that affect feedlot production.
Development of a commercial feedlot replicated-pen field trial model capable of withstanding peer-reviewed scientific scrutiny to generate relevant data to feed into the data-based decision making and economic modeling processes.
Application of digital imaging techniques for clinical and postmortem findings to allow for internal quality control between veterinarians, expansion of the distant site feedlot production consulting model, and educational purposes.
Development of marketing opportunities for slaughter animals that enable producers to adopt specific production strategies to optimize targeted carcass characteristics.
At this moment Calvin has been involved with more than 100 published scientific articles, 14 invited contributions in books/veterinary publications, numerous accepted abstracts, more than 180 invited lectures and conference presentations all over the world, 269 technical reports and many publicly funded research projects as well as approximately 100 in-house research projects every year as part of his role at Feedlot Health Management Services.  These are the current totals, but they continue to accumulate as his commitment, dedication and energy do not wane.
Calvin is a member of many professional organizations:
Western Canadian Association of Bovine Practitioners
American Association of Bovine Practitioners (AABP)
Canadian Association of Veterinary Epidemiology and Preventive Medicine
Canadian Veterinary Medical Association
International Society for Veterinary Epidemiology and Economics
Alberta Veterinary Medical Association
Academy of Veterinary Consultants
American Veterinary Medical Association
In addition, Calvin has taken on many leadership roles:
AABP President
AABP Foundation Board – AABP Liaison
AABP President Elect
Periodic peer review of manuscripts for publication in scientific journals
Feedlot Health Management Services Animal Care Committee Member
AABP Beef Health Management Committee Member
Alberta Veterinary Medical Association Discipline Hearing Tribunal
Academy of Veterinary Consultants Strategic Planning Committee Member
AABP Beef Production Committee Member
Feedlot Sessions Coordinator, for the 40th and 44th Annual AABP Planning Committees
University of Calgary School of Veterinary Medicine Research Strategic Planning Group
AABP Pre-Conference Coordinator
University of Calgary School of Veterinary Medicine – Chair of Integrated Herd Management Curriculum Committee
Dr. Booker has been recognized with many awards.  Most notably:
2010 Consultant of the Year from The Academy of Veterinary Consultants
2006 American Association of Bovine Practitioners/Merial Award for Excellence in Preventative Veterinary Medicine – Beef
2004  Alberta Veterinary Medical Association Communications Award
In addition, Dr. Booker was named as one of the six VIP's of Feedlot Medicine by Bovine Veterinarian where he was described as, "…the single most influential driver of epidemiology, the commercial field trial model and economics in private feedlot veterinary practice over the last 15 years."
Finally, he is a highly respected veterinarian, epidemiologist, researcher, teacher, mentor, innovator and leader throughout the world all while being based right here in Western Canada.  Thus, he is highly deserving of this prestigious award.
~
ABVMA Leadership Weekend
Feedlot Health values leadership and volunteerism which is exemplified by our team member's involvement in the @abvma. Dr. Pat Burrage (Past President), Dr. Natasha Kutryk (Vice President), Marissa Lemay RVT (Food Animal Committee), and Dr. Dave McPhee (Animal Welfare Committee).

~
TELUS Agriculture's Meet the Team:
Dr. Calvin Booker (June 17, 2022)
Meet the TELUS Agriculture team members who are empowering and connecting our customers, from producers to consumers, for a more sustainable future.

Dr. Calvin Booker began his career in agriculture working alongside his parents on the family farm in Saskatchewan. He emerged from an unexpected journey through post-secondary education as both a Doctor of Veterinary Medicine and Master of Veterinary Science. He joined Feedlot Health in 1992, which is now part of TELUS Agriculture's Animal Health team.
What is your role at TELUS Agriculture?
I'm General Manager for Services and Research. I work to make sure that our team has everything they need to assist our global client base. Since we're all over the world, I start my day by reviewing any messages that came in overnight. I get that done early in the morning, so that our teams can move on to helping our clients as soon as possible. I don't want anyone to wait for something they shouldn't have to.
I also head up Research and Development. I focus on how our initiatives can contribute to growth and sustainability for our clients and for TELUS Agriculture. We always have a long list of projects on the go, so I'm pretty frequently checking on progress, giving advice, answering questions, or just acting as a sounding board. I never really run out of things to do, but that's how I like it.
What drew you to this business?
I grew up on my family's purebred cattle and grain farm in Saskatchewan, working alongside my parents. I actually wanted to be a grain farmer right out of high school and didn't really consider continuing school, but my mother suggested I try university for at least a year.
I started at the University of Saskatchewan and studied Agriculture. Within two years I was admitted into the Western College of Veterinary Medicine.
When I graduated in 1989, I interned in the Ambulatory Clinic at Cornell University, working mostly with dairy cows. That's where I realized my passion wasn't the individual animal, but the entire herd. I learned to think of the group as a large unit that we could understand and improve with data. So I went right back to graduate school to complement my veterinary training with data analysis skills.
All that experience and training shaped my career at Feedlot Health. I was equipped to tackle any challenge and opportunity as they came our way, even as I continued to learn about the business.
What career advice do you have to offer?
I'm fortunate that I love my career. I can't wait to get started each day because I work with great people and I'm passionate about what we do. It never feels stale, because every day I get to learn something new from our research and data analysis.
But, I didn't plan it that way. I didn't know my calling was feedlot production. It just sort of happened. So, I know I've been lucky, but I guess my career advice would be to find something you are passionate about, get good at it, and do your best to follow that passion wherever it leads you.
What do you want people to know about livestock management?
There are misconceptions around the size of producers' operations – that "big is bad" and "small is good." In reality, "good" producers come in all shapes and sizes, from really big to really small and everything in between.
Regardless, I try to think more about "better," meaning we work with producers of any size to help them become more sustainable from an environmental, ethical and economic perspective.
Since we're talking about food and agriculture, what do you like to eat?
It doesn't get much better than an aged, well-marbled, grain-fed, ribeye steak seared on a grill. For a close second, I'd go for a hand-ground, medium to high fat hamburger cooked on a grill.
~
Dr. Tye Perrett Award Consultant of the Year for 2021 by the Academy of Veterinary Consultants
Some exciting news from the Academy of Veterinary Consultants meeting last week. Our very own, Dr. Tye Perrett, was awarded the Consultant of the Year for 2021. This award dates back to 1986 and is awarded to one veterinarian every year based on the following criteria:
Recognition for merits within the past year.
Accomplishments in the practice of Bovine Medicine.
Quality and competency of veterinary service. What his/her professional colleagues think of him/her.
Activities in organized veterinary medicine and the beef cattle industry (state, national associations, and committees).
Relationships and contributions to the beef cattle industry.
Related activities and achievements that have impacted the fed cattle industry.
Please join us in congratulating Tye for achieving this very prestigious award. Congratulations Tye!!!
~
I Am AABP
Dr. Ryan Rademacher, Okotoks, Alberta, Canada
Graduated from Oregon State University, 2014
Year joined AABP: 2011
Dr. Ryan Rademacher may not be like a typical feedlot veterinarian as he works with feedlot and calf-grower clients in the United States, Canada and Mexico, but he knew from a young age he wanted to practice feedlot medicine. The son of AABP member Dr. Dave Rademacher, the younger Rademacher says the biggest advantage of having a veterinarian father came from observing a mixed practitioner with a very diverse interest in veterinary medicine.  Read full article:  AABP – Dr. Ryan Rademacher
~
Congratulations Dr. Shari van de Pol for your recognition by McMaster University, which acknowledges the innovation you have brought to the world of Canadian cattle.
(March 9, 2021)
Shari is one of eight software and hardware engineers on the CATTLEytics team, which acts as the development/technical arm of Feedlot Health.
Read the article about Shari's recognition here: https://www.eng.mcmaster.ca/spotlight/alumni/shari-van-de-pol-bengs-01
Congratulations on this accomplishment, Shari!
~
Congratulations to Dr. Pat Burrage, appointed to the position of President, Alberta Veterinary Medical Association, 2021.
(March 1, 2021)
Edmonton, AB — The Alberta Veterinary Medical Association (ABVMA) is pleased to announce that Dr. Pat Burrage has been appointed to the position of President, Alberta Veterinary Medical Association for 2021.
Dr. Pat Burrage graduated from WCVM in 1989. He spent the first half of his career owning and operating a mixed animal practice in southern Alberta. He has spent the past 15 years in central Alberta where he owned and managed a mixed animal practice with five veterinarians, three registered veterinary technologists and four support staff in Bluffton.
~
Congratulations to Dr. Kee Jim, chosen as one of Canadian Agriculture's Top 10 "Innovators"!
(February 23, 2021)
Canadian Western Agribition (CWA) celebrated Canada's Ag Day on February 23, 2021 by announcing a group of industry leaders for the first-ever "Top 50 in Canadian Agriculture" campaign.
The CWA and FFC teamed to launch the search for the Top 50 most influential leaders in Canadian Agriculture. The nomination-based campaign ran coast-to-coast and consisted of five unique categories:
Mentors
Upstarts
Innovators
Deal Makers
Designated Hitters
The ten finalists from each category are from all over Canada, working in almost every sector of Agriculture. These finalists represent the best in the industry.
Read the full article here: Top 50 in Canadian Agriculture (agribition.com)
~
Women in Agriculture:  Natasha Kutryk
(February 7, 2021)
Growing up on a family cattle farm, Natasha Kutryk knew early in life that she wanted to pursue a career in agriculture. Accompanying her father on the farm, she found that agriculture was much more than tending to livestock.
"Farmers are farmers, but they're also environmentalist; they're stewards of the land. They're paying attention to the weather. They're watching the global markets. Everything's very complex," Kutryk says.  Click the link below to read on.
https://www.agricultureforlife.ca/post/women-in-agriculture-natasha-kutryk
~
TELUS Agriculture News & Updates
(December 8, 2020)
Critical insights and data-based knowledge
Feedlots and calf growers operate in a competitive environment that requires adoption and implementation of the most cost-effective cattle procurement, production, and marketing strategies to continually improve the profitability and sustainability of their businesses. Determining the value of new products, management strategies and technologies is crucial in order to improve their net profitability.
Feedlot Health's individual animal data collection and execution tools help optimize production efficiency and overall animal health by supporting data-based decision making for feedlot and calf grower clients.
The interdisciplinary expertise of the Feedlot Health team helps feedlots and calf growers to improve profitability by optimizing cattle health, nutrition and production, and adopting new knowledge based on the results of large scale commercial research studies. Feedlot Health's method combines the use of commercial field trial data, operation-specific economic modeling training, support, and oversight 365 days a year. Their approach helps clients make the best decisions to ensure their businesses are profitable and sustainable.
As part of TELUS Agriculture, Feedlot Health is bringing value based services through the use of its technology solutions, track record of innovation and customer service, and top talent. Working with TELUS Agriculture will provide opportunities to enhance Feedlot Health's technology solutions and to continue to innovate at a more rapid pace that will bring additional value to clients across the globe.
About Feedlot Health
Feedlot Health was founded in 1983 by Dr. Kee Jim, with a vision to provide animal health consulting services to feedlots using a data-based decision making approach. While in veterinary school, Kee recognized the potential of using computerized individual animal records to understand the epidemiology of disease in commercial feedlots as the basis for improving disease prevention, control, and treatment. This led to the development and implementation of the first chute-side computerized data collection system in Canadian feedlots. With the addition of Dr. Calvin Booker, Feedlot Health pioneered the large-pen commercial field trial model and Feedlot Health's proprietary economic model to provide clients with decision support tools that would improve their profitability.
Over the years, Feedlot Health has continued to develop its data collection and execution tools, grow its team of experts, broaden its areas of expertise, expand its service offering across all aspects of feedlot and calf grower animal health and production, and provide services to clients in Canada, the United States, Mexico, Brazil and Kazakhstan.  Read more about it here:  https://www.telus.com/en/ab/agriculture/news-and-updates/feedlot-health
~
Booker's President's Message Touches on Diversity, Wellness
At the AABP Business Meeting and Awards Luncheon, AABP President Dr. Calvin Booker gave his outgoing president's message. One of AABP's initiatives he wanted to highlight was this year's new diversity and inclusionary statement on the AABP homepage (https://aabp.org).
It reads: The American Association of Bovine Practitioners is an international association of veterinarians serving society as leaders in cattle health, welfare and productivity. We welcome and support any veterinarian or veterinary student, regardless of race, color, national origin, sex, religion, sexual orientation or any other demographic, to participate in all opportunities that our organization provides. As leaders in the cattle industry, we encourage all veterinarians with an interest in cattle to join us and participate in our organization.
"We need to live up to the true meaning of this statement," Booker said. "I encourage you as members to try to make a difference, one person at a time." Booker also spoke about the problem of mental illness in the veterinary profession. "In my March newsletter message, I talked about physical and mental wellbeing," he says. "It's a difficult topic. I'm pleased AABP is trying to change that by adding this topic to presentations, webinars and podcasts."
New AABP President Dr. Carie Telgen presents the President's plaque to Immediate Past President Dr. Calvin Booker at the conclusion of the 2020 53rd AABP Annual Conference Business Meeting and Awards Luncheon in Louisville, Ky.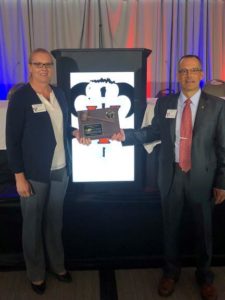 ~
Accolades for bovine veterinarian, practitioner
Dr. Tye Perrett received a Canadian Association of Bovine Veterinarians (CABV)/Association Canadienne des Vétérinaires Bovins(ACVB) Honorary Life Membership in recognition of his service as the association's first president for two consecutive years (2007-09). Perrett provided capable guidance at a time when even small decisions would be magnified over the span of time. The association thanked Perrett for his steadfast leadership in helping to create a truly national organization that represents all bovine practitioners from coast to coast. Perrett is managing partner at Feedlot Health Management Services, Ltd. in Okotoks, Alta.
~
CVMA Life Membership awarded to Dr. Eugene Janzen
CVMA Life Membership is presented to a CVMA member for long and outstanding service on CVMA Council, Executive, Boards, and Committees or for outstanding contributions to the veterinary profession. This year's recipient received his Doctor of Veterinary Medicine in 1972 from the Western College of Veterinary Medicine (WCVM) and spent 3 years practicing in northeastern Alberta before returning to WCVM on an Alberta-sponsored fellowship to complete a post-graduate degree. He received a Master's of Veterinary Science from the University of Melbourne in 1977 before accepting a position with WCVM's Ambulatory Clinic where he focussed on beef cattle medicine. He became associated with Feedlot Health Management Services in 2003 and began working with Canada's newest University of Calgary — Faculty of Veterinary Medicine (UCVM) in 2005 before accepting its first class of students in 2008. He recently transitioned from holding the 10-year position of UCVM's associate dean of Clinical Practice, Community Partnerships to UCVM's professor emeritus in the Production Animal Health Department. His main interests are mitigation of painful cattle procedures, validation of the digital necropsy diagnostics, management of lameness in feedlot cattle, and investigation of disease outbreaks and nutrition problems in the western Canadian community. The CVMA would like to welcome its newest Life Member, Dr. Eugene Janzen!
~
There's a crisis in our beef industry, so what do we do about it?
Hear from Feedlot Health's Managing Director, Dr. Kee Jim, as he discusses the current situation facing the beef industry in the Spring of 2020 on the AlbertaBETTER podcast hosted by the Business Council of Alberta.
~
Feedlot Health Featured in Bovine Veterinarian's Post-Mortem Series 2019-2020
"Myocarditis and Chronic Myocarditis, by John Maday
This case continues our Post-Mortem Series.  The image depicts a heifer calf found dead on November 18 at 34 days on feed, with no prior treatment for undifferentiated fever.  Read Article  here: Nov. 2019 – Post Mortem-Myocarditis and Chronic Myocarditis Heifer
"Fibrinous Pneumonia" by John Maday
This month, we continue our new Post-Mortem Series in partnership with Feedlot Health.  Take a look at the diagnosis process of a feedlot steer, found dead in pen having been on feed for 20 days. Read Article here:  Oct. 2019 – Post Mortem-Fibrinous Pneumonia Steer
"Feedlot Atypical Interstitial Pneumonia (AIP)" by John Maday
This month, we are excited to introduce our new Post-Mortem Series in partnership with Feedlot Health Managements Services, Okotoks. Read Article here: Post Mortem-Sept.19
"The Power of Numbers" by John Maday
Alberta-based consulting group draws on data and teamwork to provide integrated services to producers. Read Article here: FHMS-Sept.19
~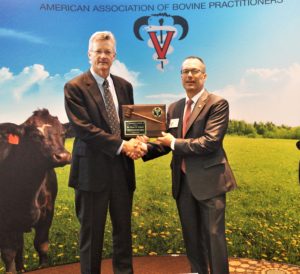 Booker becomes 2019-2020 President of the American Association of Bovine Practitioners
At the end of the annual business meeting of the American Association of Bovine Practitioners (AABP) in St. Louis, MO, on September 14, 2019, Dr. Calvin Booker assumed the role of 2019-2020 President of AABP. The AABP is an international association of veterinarians serving society as leaders in cattle health, welfare and productivity. The "not-for-profit" organization was founded in 1965 in the United States and has grown to a membership of approximately 6000 veterinarians, including approximately 500 Canadian members.
For more information about AABP, please visit the AABP website: https://aabp.org/
~
2019 Fun-Run Challenge Pumps up Scholarship Fund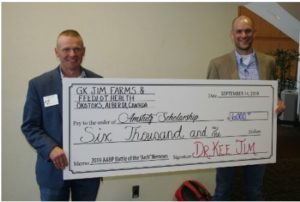 Drs. Eric Behlke (left) and Holt Tripp competed in the 5-K run, motivated by a $6,000 donation to the Amstutz Scholarship from Feedlot Health founder Dr. Kee Jim.
For several years, AABP has hosted an early morning 5-K fun run during its annual conference, with entry fees helping support the Amstutz Scholarship Fund.
In the months leading up to this year's conference, held in Mid-September in St. Louis, two veterinarians from Feedlot Health Management Services, Okotoks, Alberta decided to ramp up the competition with a personal challenge.
Last spring, Dr. Eric Behlke and Dr. Holt Tripp challenged each other for best finish and bragging rights in the race. Both competitors trained diligently through the summer, along with considerable trash talk.
As interest in the competition grew, Feedlot Health founder Dr. Kee Jim offered a $6,000 donation to the scholarship fund on behalf of the winner.
Dr. Tripp came out ahead in the race, finishing third overall, but the big winner was the Amstutz Scholarship fund and the outstanding veterinary students it helps support. The Amstutz Scholarship provides over $300,000 per year to deserving students.
~
Feedlot Health and The Calgary Stampede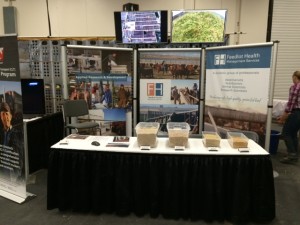 Since 2012, Feedlot Health has participated in the "Cattle Trail" display at the Calgary Stampede. This display follows the life cycle of a beef animal from pasture to plate and highlights 7 major areas of beef production. Our contribution to the display was found in the finishing section of the display and Stampede Park visitors had the chance to meet with Feedlot Health employees, including consultants, to learn more about the progression of a feedlot animal through a feedlot. A series of short video clips were available that showed such things as processing, feeding, pen checking and loadout.