Leader in Research
Research is a vital component of our business. It provides the foundation for the recommendations in all of our service programs. This data-driven approach of providing recommendations based on the most current data available has made Feedlot Health a global leader in animal health and production consulting. Our access to information, data, and animals allows us to conduct a variety of collaborative research projects, including disease investigations, product safety and efficacy studies, and new technology assessments. We consider it a privilege to have the opportunity to use animals in normal commercial production scenarios for research purposes. As such, we are committed to ensuring the highest possible standards of animal care and well-being.
Data Based Service Programs
Feedlot Health has developed the recommendations in our service programs based on results from large scale commercial research studies. Using bio-economic modeling, we translate the biologic outcomes observed in the research studies into "dollars and cents" to determine the most cost-effective solution for a wide variety of economic and production scenarios. We also work with individual client operations to design and conduct research projects tailored to evaluate site-specific strategies.
Key Innovations
Our research has allowed us to work on ground-breaking innovations that have enhanced animal health and improved the efficiency of production in feedlot and calf-grower operations, resulting in substantial economic benefits to our clients. Many of these key innovations have the potential to advance the collective knowledge of cattle health and production and contribute to far reaching industry and societal benefits. As a result, we have authored or co-authored more than 90 peer-reviewed scientific articles, completed more than 200 technical, academic reports, and presented technical material at more than 225 conferences and meetings globally.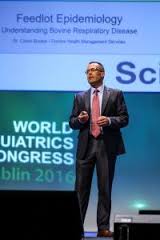 World Buiatrics Congress, Bayer Satellite Symposium, 6 July 2016, Dublin, Ireland Photography by Roger Kenny